I'm in another new-to-me state: Oregon! A state without sales tax, where it's illegal to pump your own gas, and with fir trees galore. I arrived in Bend on Thursday and have settled into the spacious townhome where I'm spending the month discovering why Bend shows up on so many Top 10 lists of cities to live in the U.S. The journey here through the Columbia River Gorge was truly gorge. (You knew that was coming.)
Most of my journey from Idaho to Portland, where I spent last Wednesday night, was along the massive Columbia River, separating Washington and Oregon. The Columbia River Gorge is a canyon stretching over 80 miles and is the largest designated National Scenic Area in America.
After exploring Portland on Wednesday evening and briefly Thursday morning, I headed east back through the gorge and stopped at several places along the way before continuing south to Bend.
Multnomah Falls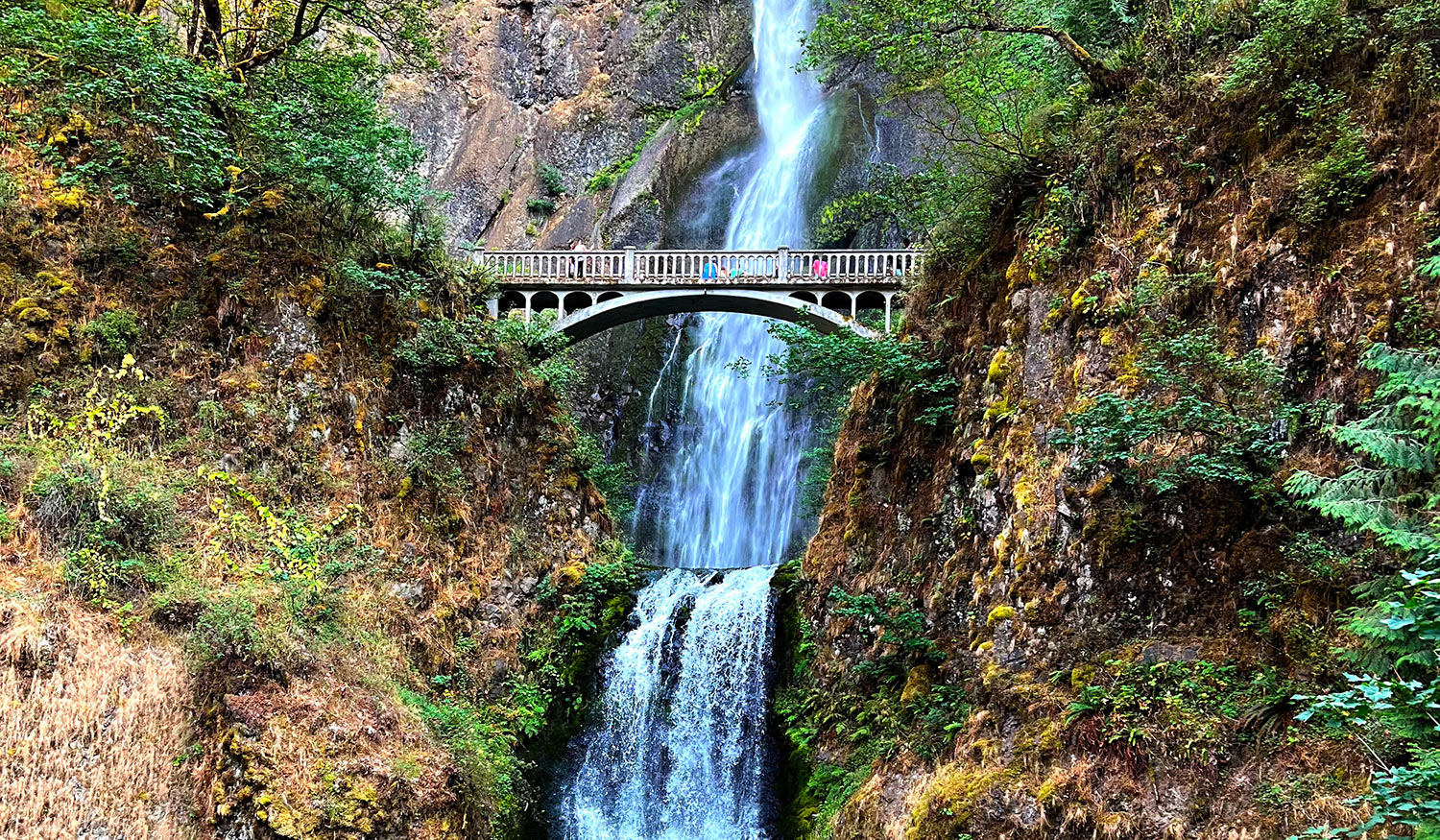 Multnomah Falls is the must-see attraction when traveling through the Columbia River Gorge. It's the tallest waterfall in Oregon at 620 feet. And that's saying a lot because there are at least 238 waterfalls in the state.
I stopped here on my way to Portland. Located just off I-84 thirty minutes east of Portland, it's a 3-minute walk from the parking lot to the picturesque view of the falls. I walked up to the bridge across the falls; and you guessed it, wobbly legs like usual for me walking across it!
From the bridge, I decided to hike up to the top. 1.25 miles long, the completely uphill trail has 11 switchbacks and was quite the workout, especially in 91-degree heat! The views of the river and Washington state were what kept me going.
Once I made it to the top, I timidly walked onto the observation deck and quickly looked over before hiking back down.
Bonneville Lock and Dam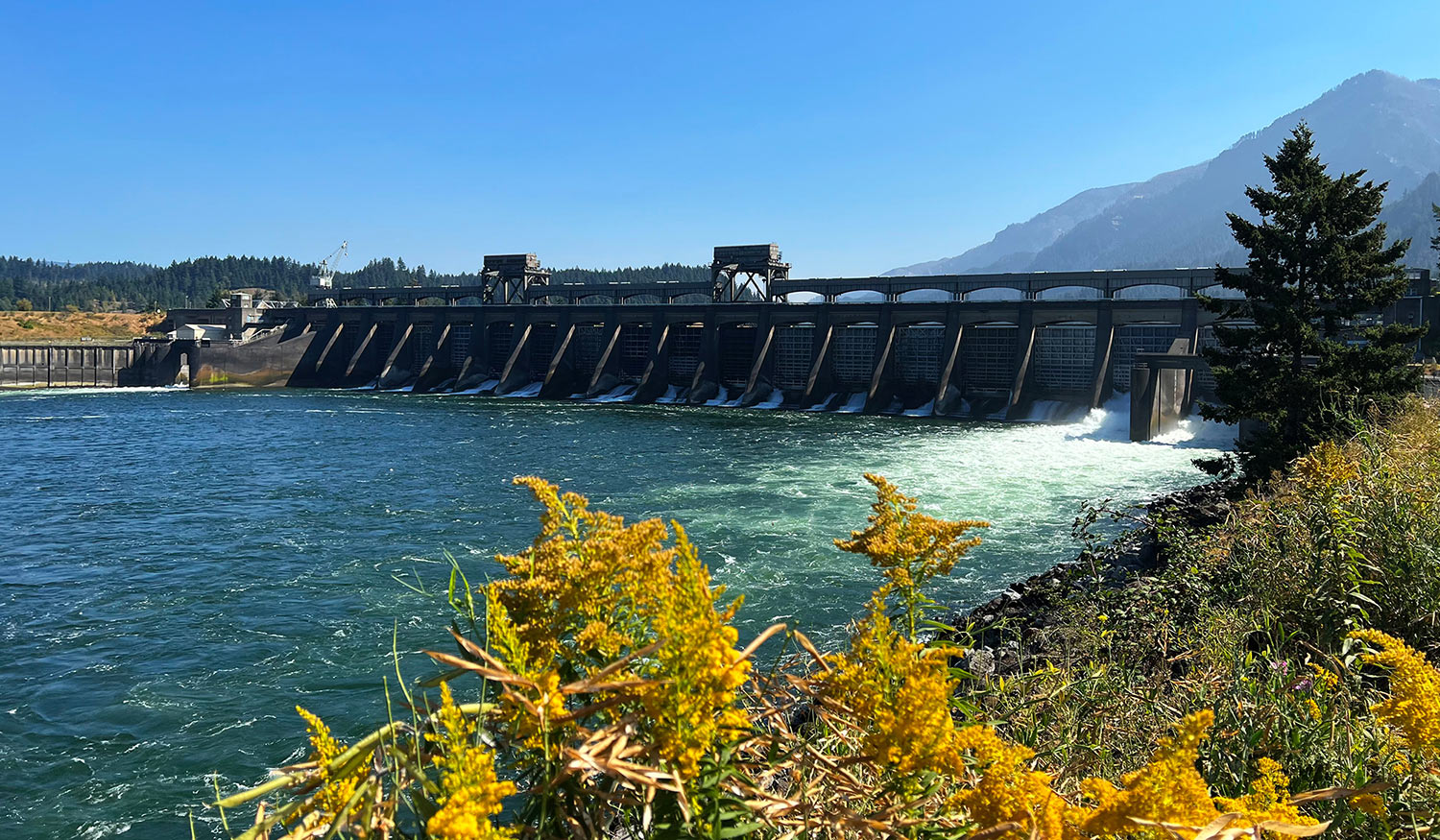 Fifteen minutes east of Multnomah Falls on I-84 is one of those brown Historic Site exit signs. This one for the Bonneville Lock and Dam. I saw it the day before when driving west to Portland, so I thought this time I'd take the exit, snap a quick photo or two, and head back to the highway.
Instead, I was pleasantly surprised by how impressive the lock and dam facilities are, including a visitor center with exhibits on how it was constructed and how it all functions.
The underground level of the visitor center is all about the life cycle of salmon. There are giant glass windows where you can observe salmon and other fish going through the fish ladder. Here, volunteers count the number of fish flowing through each day. The unofficial daily fish count for the day before I visited was 26,206 adult chinooks. Fascinating!
The lock and dam, built and operated by the United States Army Corps of Engineers, was completed in 1938 as part of Franklin D. Roosevelt's New Deal. Bonneville Dam is an active hydroelectric power plant, and I was able to go into one of the powerhouses to see the working turbines and generators.
Visitor center volunteers told me I should also check out the fish hatchery next door before continuing my journey. Ok, fine. I've never been to a hatchery, so I'll see what all the fuss is about.
Bonneville Fish Hatchery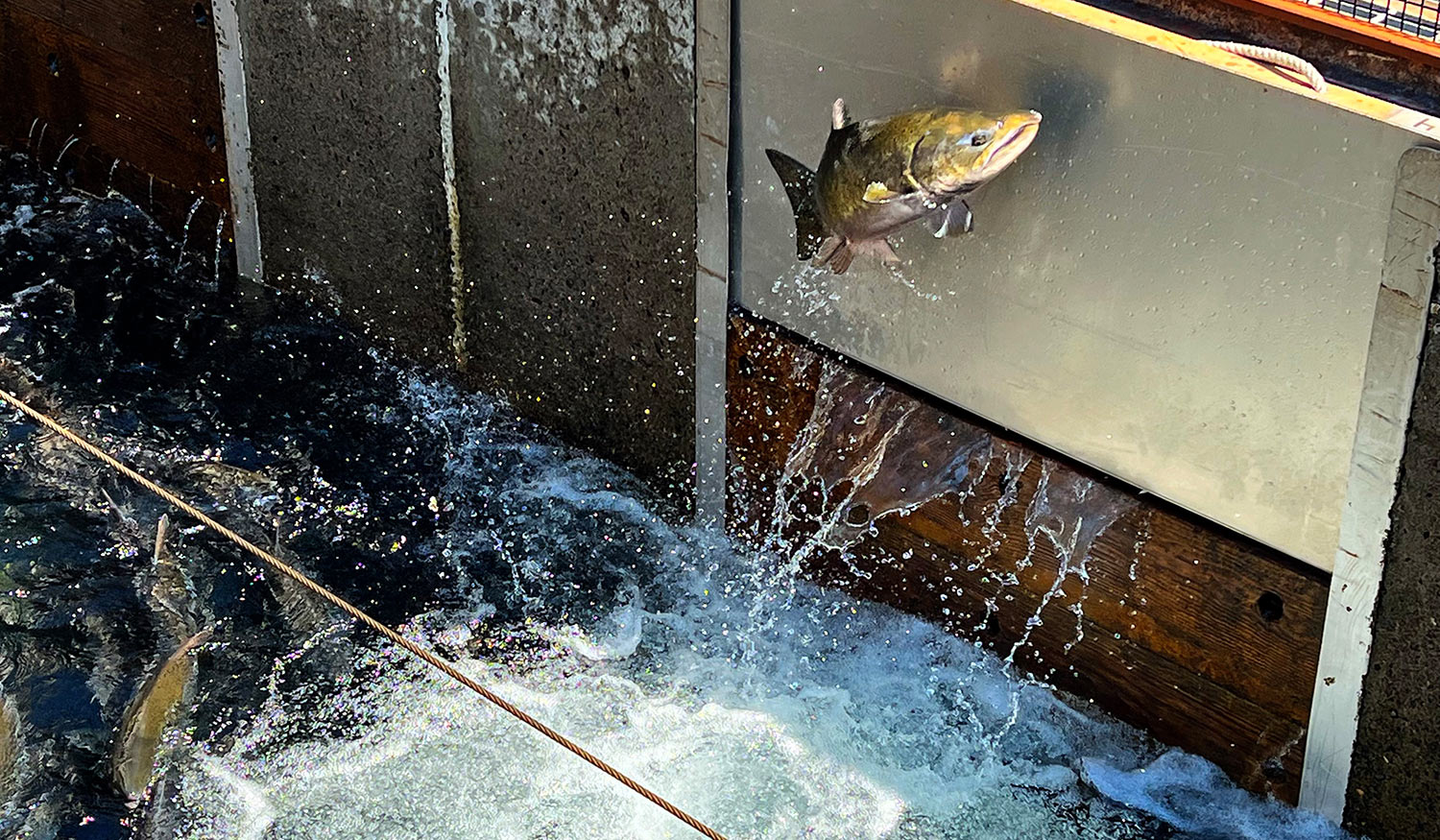 Wow! The Bonneville Fish Hatchery, located right next to the lock and dam, is amazing. It was the size of a zoo, and totally free. I followed the fish signs painted on the roads to the salmon hatchery.
I could have spent hours watching the giant fall chinook salmon jumping around and trying to get up to the next pond which was closed off to them that day. It was very entertaining for me and other tourists trying to get the perfect jumping photo or video. I got one!
Pulling myself away from the salmon, I wandered around the rest of the hatchery grounds, viewing the giant sturgeon, multiple trout ponds, and a cute gift shop where I found a Sasquatch holding the perfect sign for my big travel adventure.
Two hours later, I finally made it back onto the interstate.
Bridge of the Gods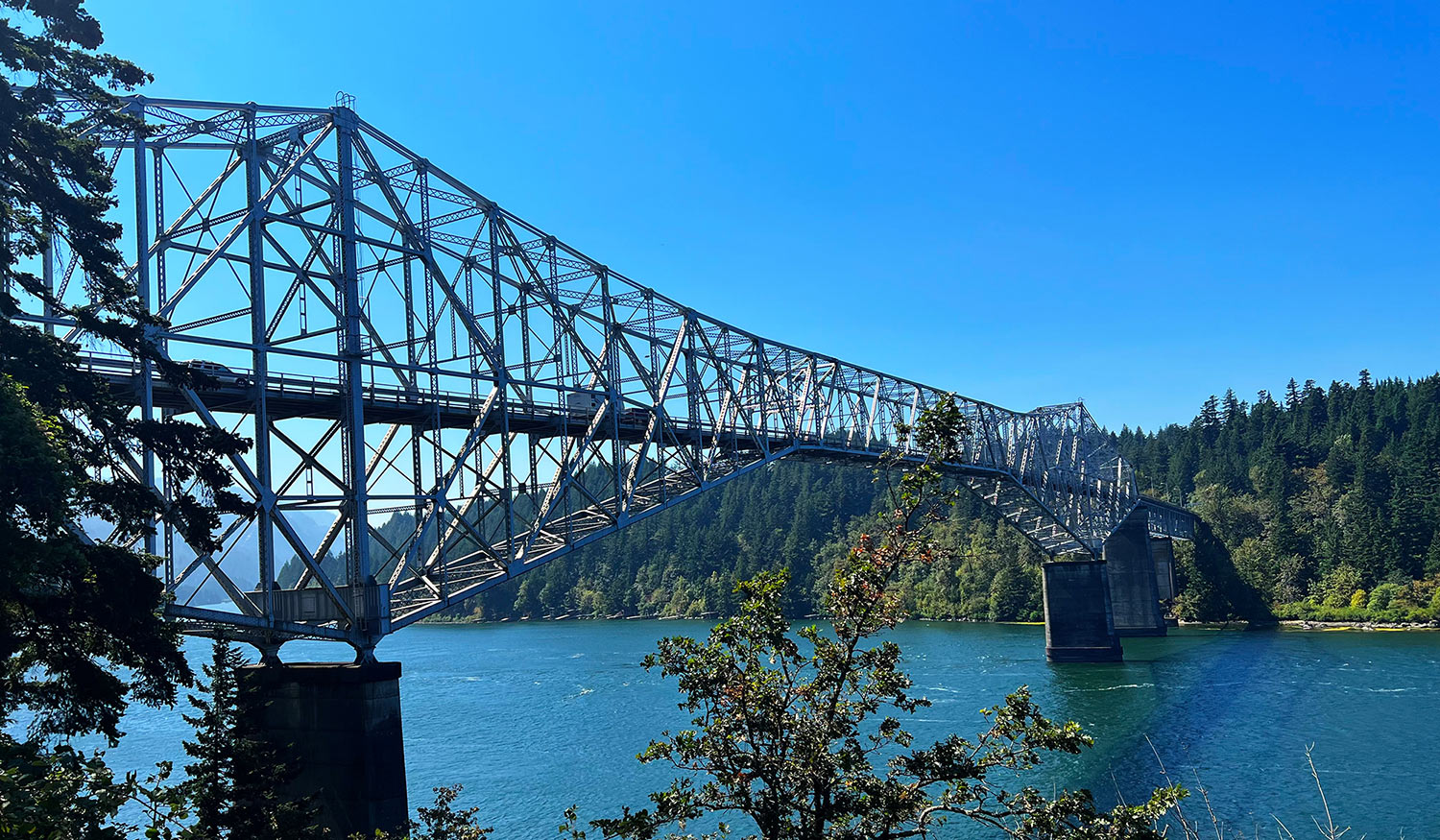 There are obviously many bridges that span the massive Columbia River, taking vehicles and trains between Oregon and Washington. But none were as impressive as the Bridge of the Gods, located in the cute little town of Cascade Locks.
Bridge of the Gods is a steel truss cantilever bridge, completed in 1926. The speed limit is only 15 mph, and I would have been scared to go any faster.
I didn't spend much time in Washington but did drive a few miles looking for an overlook turnout and instead found Washington's Bonneville Lock and Dam visitor center. I decided it was best to stay in the car instead of getting sucked into there for another hour. I did get a great photo of the bridge, though!
It's a toll bridge, so I had to pay $3 each time I crossed it. The same sweet woman took my money both ways. When I asked her where to find the best view for a photo, she said I could just park my car in the nearby lot and walk across it. "I don't think so!!"
Mount Hood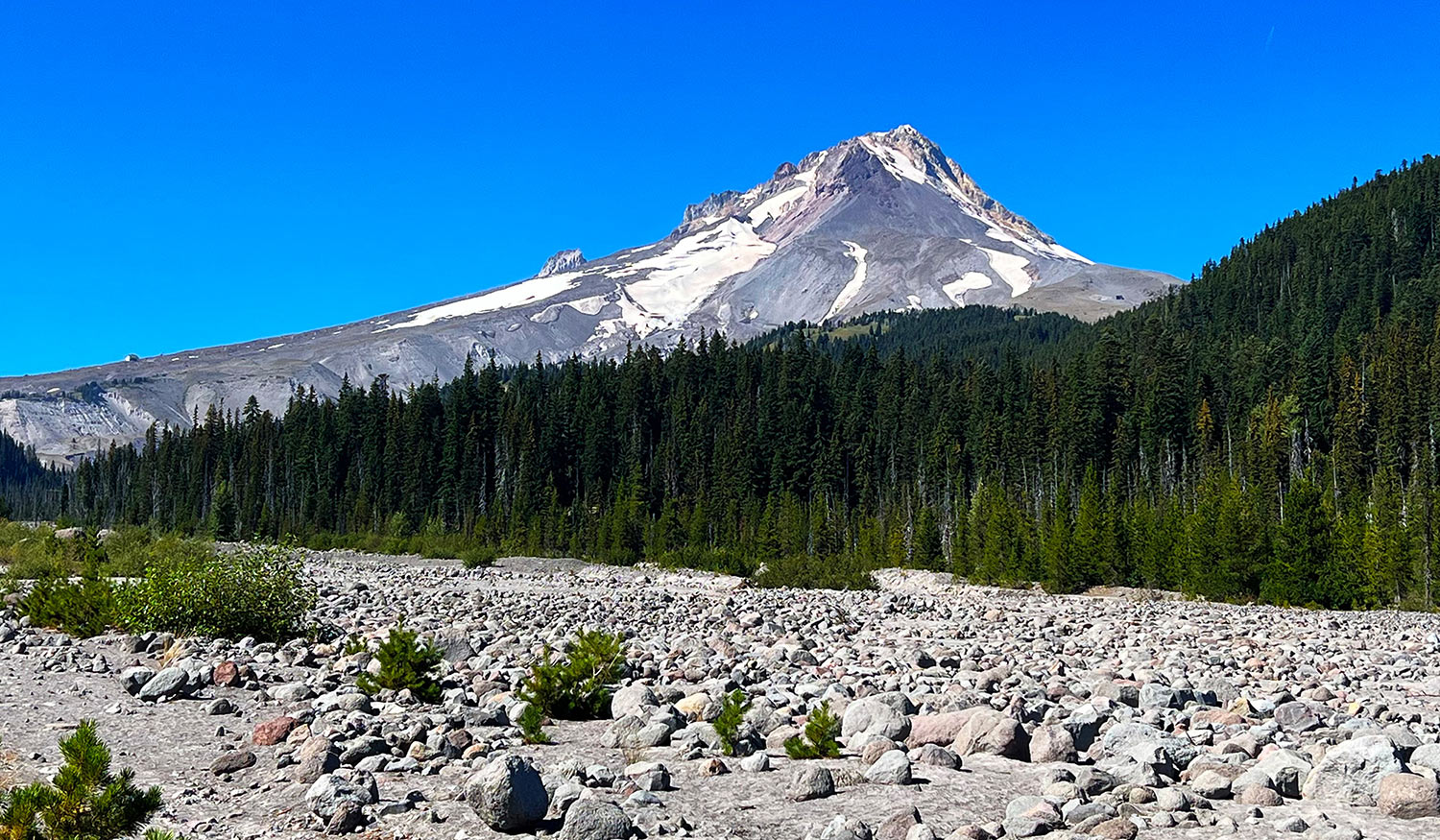 After leaving Cascade Locks, I decided it was time to stop putzing at every exit and finally cruise to Bend. The highway to Bend took me to Hood River, a town with kiteboarders everywhere, and eventually through the Mount Hood National Forest with beautiful views of the snow-capped mountain. My ears were popping along the route, as it went from near sea level at the Columbia River to over 4,000 feet near Mount Hood.
Outside the town of Hood River are miles and miles of orchards, vineyards, fruit stands, and wineries. I'm used to corn fields for days in Minnesota and was amazed at seeing apple trees on both sides of the road continuously for about half an hour. I learned that area of Oregon produces some of the best fruit in the entire country. I will be heading back there! Same with Mount Hood; I want to get closer than I did to take this photo.
I've created a photo gallery of favorites from my adventures so far in Oregon. Enjoy!